Photographers looking to sell prints online, using automatic fulfillment, can now do it inside WordPress directly.
With WordPress powers more than a third of the Internet, it was strange that this feature didn't exist yet, given the vast
It turns out it's actually a really difficult thing to achieve, and the folks at Imagely are the first players in the WordPress ecosystem to do it. And to do it really well actually.
What is automatic print fulfillment anyway?
Maybe a few definitions are in order here.
eCommerce, in the context of a photographer selling prints, is the ability to charge money online for those prints, on a website or app
fulfillment is the process of getting the order from the website, physically printing the images, then shipping them to the buyer
self-fulfillment is when the photographer (= the site owner) is responsible for printing the images (either at home, or at a print lab of their choice) and then personally shipping the package out to the buyer
auto-fulfillment is what makes life easier for photographers, a process that goes something like this:

a new print order comes through on the website. While the money gets forwarded to your account, the site automatically forwards the order details – including the high-res image files – to a print lab
the print lab then… well… prints the image(s) and then ships them to the buyer directly, in a package that has the photographer's branding on it (aka a "white-label" package)
during all this time, the photographer is asleep at home. When they wake up, they'll see they made a profit (for the markup they decided to set above the base print prices of the lab).
NextGen Gallery now brings auto-fulfillment to WordPress (US & Canada only, for now)
If you're a WordPress user, you're likely already familiar with the popular NextGen Gallery plugin.
Their Pro extension brings powerful photography eCommerce capabilities to WordPress sites, allowing you to sell (via Stripe or PayPal):
digital downloads/licenses
custom self-fulfilled prints and photo-based products
and now also auto-fulfilled prints via the White House Custom Colour lab in Minnesota, US
plus it's all with zero commissions (you just pay the early NextGen Pro subscription), you can use coupons for special offers, and sales tax gets calculated automatically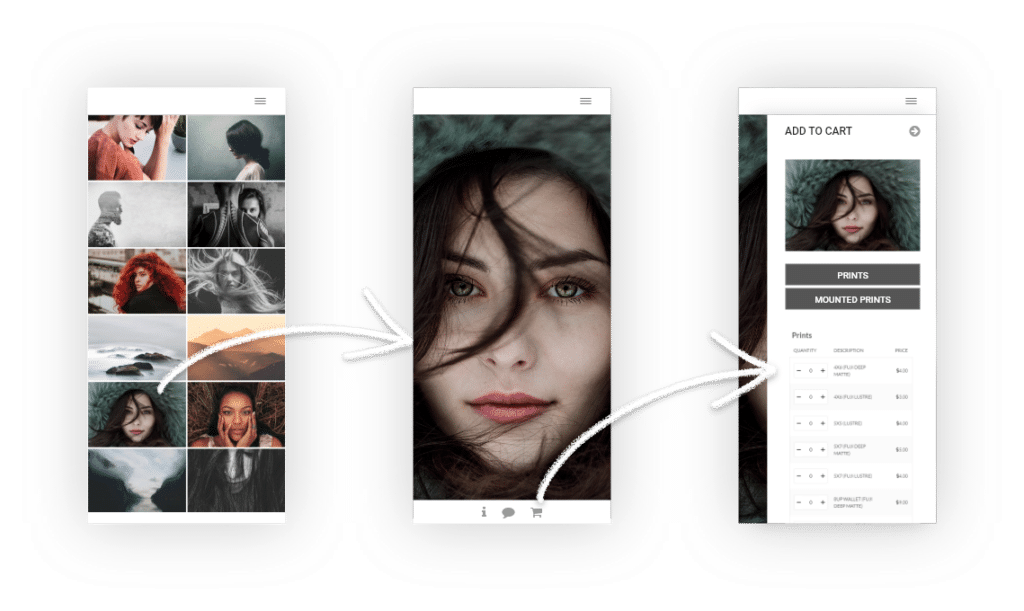 Here's a short intro to NextGen Pro:
An here's a 5-minute overview of their print lab integration feature:
And a simple "how it works" infographic: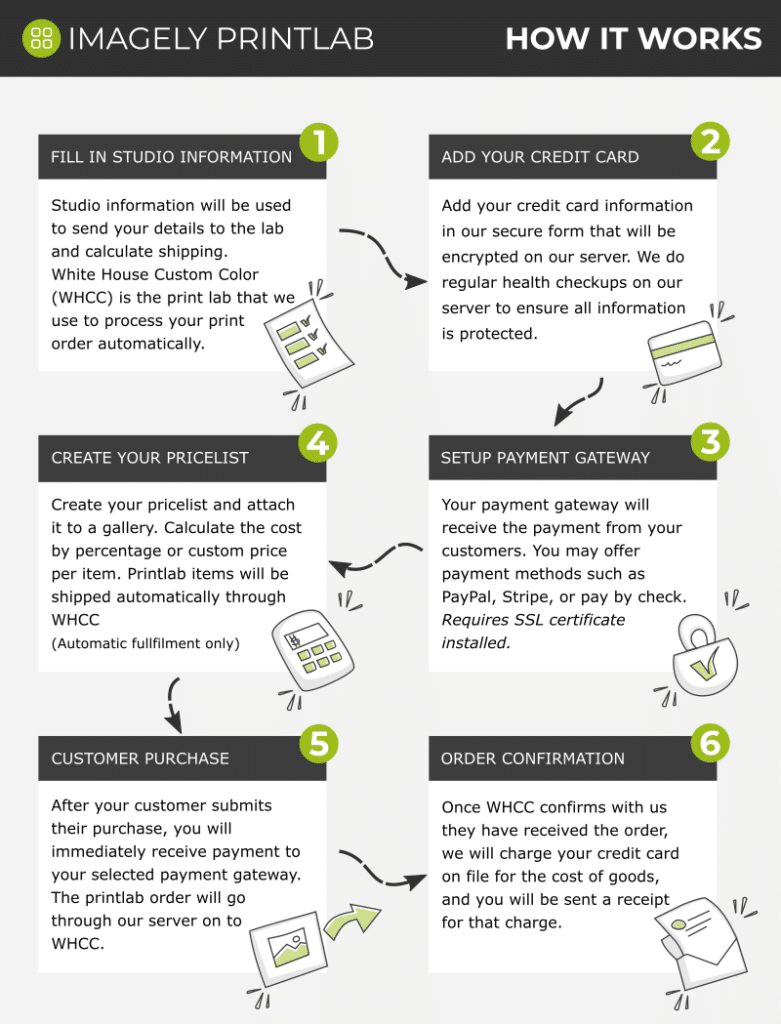 "You can add a pricelist based on WHCC's catalog, mark up prices, associate the pricelist with a gallery, and start selling. After a sale, Imagely's central server collects the images and forwards them to WHCC. We also bill you for the cost of the print order. WHCC ships prints to the final customer. And that's it."
To learn more about this new NextGen Pro feature, you can read more on their website here:
Why is this important?
Simply because – and I say this from years of experience working on photography websites – many photographers needed to integrated two different platforms to fit all their needs: a photography-specific platform (like PhotoShelter, Smugmug, Shootproof, etc.) and WordPress (for more control over the static informational pages, and maybe also for a full-featured blog area).
WordPress was simply lacking in the eCommerce department, but now it's become a viable solution for strong single-platform photography websites.
My interview with Scott Wyden Kivowitz from Imagely
Excited about this new feature, I wanted to have a quick chat with Scott about it, how it's been received by the community, and are their future plans with it. I also took this opportunity to ask him a few NextGen-related questions from my audience.
Sorry for the video quality and audio sync issues, I only used Skype's built-in recording feature for this.
Topics covered in the video:
How was print lab integration received so far
Why did WP lack such a feature?
Details on the various features of NextGen Pro
Other ways to expand NextGen Pro in the future (including plans for more print labs and international shipping)
and more…
Following our chat, Scott promptly put together a new documentation page on their site, addressing their recommendations for image sizes, following a few suggestions from me.
---
If you're interested in hiring me to build a custom WordPress site (complete with eCommerce functionality), check out my Photography web-design Services or send me a message.
Ready to get started with NextGen Gallery Pro and automatic print lab integration?
This is *NOT* a sponsored post. But please note that some of the links are affiliate links, so I might get a small commission, at no additional cost to you. I genuinely recommend NextGen Pro and often use it on the photography websites that I'm building.
Need help managing your WordPress site?
Save time & money by protecting your website, and having me do ongoing testing, maintenance, prevention & iterative improvements.
Check out my website maintenance plans & technical services for photographers: