Powers of 10: Time Scales in User Experience
From 0.1 seconds to 10 years or more, user interface design has many different timeframes, and each has its own particular usability issues. 
Image rights metadata in Google Images
As part of a collaboration between Google, photo industry consortium CEPIC, and IPTC, the global technical standards body for the news media, you can now access rights-related image metadata in Google Images.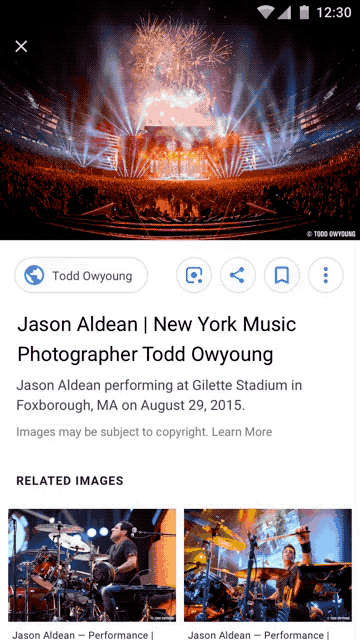 Remember when they said GDPR would kill email? It didn't.
Our research shows that 60% of brands who are complying in full or in part with GDPR saw either no effect on list size or a loss of less than 10%.
Google's new web app lets you 'Squoosh' images down to smaller file sizes
It's a pretty simple app to use: you can drag and drop an image of your choosing into the tool, at which point, you can pick from compression standards including MozJPEG, OptiPNG, and Google's own WebP.
A nice little tool to test your website's load speed from 25 locations worldwide
SquareSpace is Officially Screwing Photographers
Now imagine a huge website provider partnering with Unsplash to distribute the photography for free, and basically send the message that photography has no value. Stop imagining because Squarespace just did it.
Did you know: If your website is hosted by @squarespace, you're funding a company who is now actively working to degrade the business model of photographers—and doing do at scale. https://t.co/AW69MDrJqj

— David Hobby (@strobist) November 17, 2018
So why not switch to WordPress instead? Squarespace vs WordPress – Which one is better? (Pros and Cons)
Weighing in the pros and cons, we can confidently say that WordPress is a better platform to start a website. The freedom to grow your website as you see fit, is important for all businesses. You should not trade that for any cost. WordPress provides you with this freedom at an much lower cost than all other platforms.
10 exciting web design trends you can't hide from in 2019
We're in a post flat design world, and it looks like web design takes a more experimental approach than we've seen in years past. Virtually no element on the web page is safe from experimentation as we move into 2019.
Font combinations for web designers.
If you can't tell, there's a font for everything. There is no lack in the world of font varieties. Yet, this makes it a daunting task to pick two that work well together. With this font combination tool, you are able to see which fonts compliment each other. Whether you've picked out one font, or haven't picked out any, this tool can give you some inspiration.
The Importance of Selling Products – Not Pixels with Bryan & Rob
The photography market is becoming increasingly competitive and photographers have to find ways to differentiate themselves from their competitors who are sometimes also their clients. Bryan & Rob share tips on how selling physical products like prints and albums can help you stand out from the crowd.
The Truth About Getting Paid For Nature Photographs
While this is a cramped market, there will always be a need for nature and wildlife images, especially for books and advertising use. If you want to get paid in sunshine and are willing to specialize, you can be happy in this category. Innovators who find new ways to "productize" their work will find the most success.
Becoming a Professional Photographer by Taking Shortcuts
If you want to be a professional photographer, you have to know what makes a visual touching the senses of the viewer. Learn and master the three basic components of an image: story, composition, and lighting. This is your shortcut.
Calling people 'users' is unethical and outdated
Labeling people as users strips them of complexity. It reduces humans to a single behavior, effectively supporting a view of people as more like robots whose sole function is to use a product or feature. This is a poor ethos for building ethical technology.
5 Reasons No One Visits Your Website (and how to change that)
The world has evolved far beyond the stage where you can draw visitors simply by putting up a website. There are around 1.8 billion of the things out there. If that makes you think you'll have to be proactive in order to grab some attention, you're right. Good luck!
Best Time To Post On Facebook For Maximum Exposure
Learn the absolutely best time to post on Facebook for maximum exposure for your target market. No matter who your target market is, there are only two ways to determine the best time to post on Facebook. The first is using common sense. The second is using Facebook Insights.
20 tools that will help you become a more effective freelancer
There are so many tools out there, it may feel like setting them all up and learning how to use them is going to take up a bunch of your time. But a few select tools could make a huge difference to your daily efficiency—which translates into more hours in the week for productive (paid) work.
Adobe Announces Substantial Updates To The Lightroom Ecosystem
No matter what version of Lightroom you're using, there is a LOT of power being packed into the release today that will be sure to enhance the images and workflow of everyone who updates.
What to Write on Your Photography Website (So That People Will Hire You)
Over time you'll discover many interesting ways to write about your photos. It won't be long until people respond more to what you said about your photos than the photos themselves. This doesn't make your photos any less important. If anything, it will make them all the more memorable in a sea of endless images.
Scott Hanselman – Scaling Yourself
How to Quit Your Job in 837 Easy Steps
I found myself Googling whether to leave my job — while leading PR at Google. […] There are some people who are born knowing exactly what they want to do or who are super relaxed about riding the seas of change from one wave to the next. But those people never clicked on this article. But you did.
No one ever bought anything in an elevator
The purpose of an elevator pitch isn't to close the sale.
SEO
How photographers think about SEO sometimes 🤣 https://t.co/PzzoSHxNkn pic.twitter.com/6GrpOiOCQB

— Alex Vita (@foreground) March 18, 2019
SEO basics: What is site structure and why is it important?
Site structure is a vital aspect of your SEO strategy. The structure of your website shows Google which pages of your site are most important. This means you can influence which articles will rank highest in the search engines with your site's structure. So, better get it right!
On-Page SEO for 2019 – Whiteboard Friday
We're past due for taking a close look at the health of our on-page SEO practices. What better way to hit the ground running than with a checklist? In today's Whiteboard Friday, the fabulous Britney Muller shares her best tips for doing effective on-page SEO in 2019.
SEO Basics For Photographers | Your Guide To Getting Started In 2019
The goal of this article is to show you how simple SEO for photographers can be and give you a foundation to get you started. From there, it will be up to you to make it happen for yourself and your business. Because if you are able to apply these tips, you will undoubtedly see your traffic (and leads) increase.
Why Ranking for SEO "Trophy Keywords" is a Colossal Waste of Time
– They're a race to the bottom and commoditize your business.
– It costs a lot of time and/or money to rank for them.
– The leads they bring in are poor.
What is keyword stemming?
Google can read and analyze texts very well. Google understands that 'walk', 'walking', 'walked', 'walks' all boils down to the same thing. Also, Google knows that 'baby' is basically the same thing as babies. Optimizing your text for an exact match keyword isn't a very smart thing to do.
Google Discusses Ranking Factors
In a Webmaster Hangout, Google's John Mueller discussed how Google uses ranking factors for ranking websites. John indicated that ranking a page is not a matter of achieving top ranking factor benchmarks. He seemed to suggest that user satisfaction may be more important than a ranking factor such as speed.
WordPress
Sucuri vs Wordfence – Which WordPress Security plugin is worth your money?
We will compare how these two WordPress plugins work and what features they offer, so that you can decide with all of the information in hand. And we'll help you decide which one is worth your money!
How to Scan Your WordPress Site for Potentially Malicious Code
Often we get asked by our users, is there a way to scan your WordPress site for potentially malicious code? The answer to that question is YES, YES, and YES. There are both free and paid tools available to scan your WordPress site for potentially malicious or unwanted code. Usually, malware and malicious code can go unnoticed for a long time unless you regularly scan your website.
What is WebP and How to Use This Image Format in WordPress
Hopefully, we'll see WordPress — and Apple — introduce support for WebP in future. Until that happens, I'd encourage you to experiment with this file format and check out alternative tools that can help you serve WebP images on your WordPress site.
The Future of WordPress (2019)
In case you missed it, WordPress underwent some incredible, monumental changes – mainly the global rollout of WordPress 5.0 Gutenberg, codenamed "Bebo". The update was surrounded by so much contention that it even made some question whether Gutenberg would mark the end of the era in which WordPress was considered the world's best content management system.
And a few articles from me that you might have missed: